Daddy, you smell like soil
June 30, 2018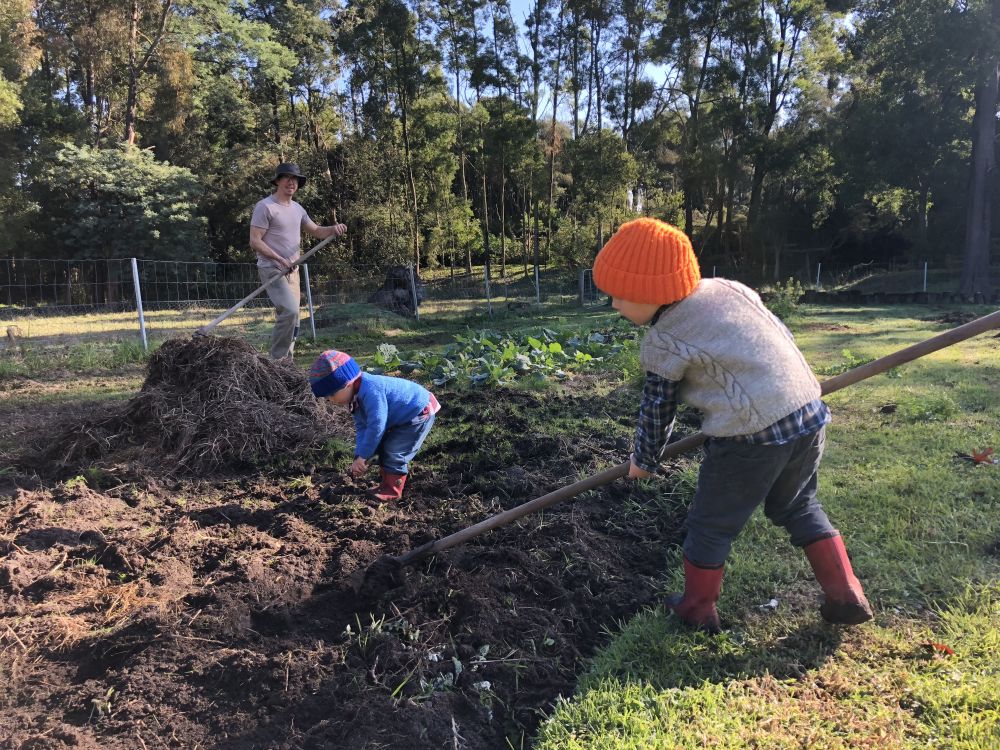 Dear wine friends
A man walks into a cellar door and says, "So what's your wine farm called?"
"The Wine Farm" I reply with a smirk, knowing just what this South African would think of that.
In Neil's native South Africa, where he studied and started his career in wine, vineyards are commonly referred to as 'wine farms'. The focus is on growing grapes and the people who grow them are farmers. The first time I visited the Cape I was struck by this unpretentious description and when it came to naming our own parcel of vines it seemed the obvious choice.
"Geez, must've taken you a while to come up with that one," said our elderly neighbour when he first came to collect a few bins of grape skins for his cows.
No, John, it didn't.
As you get to know Neil you'll find that if you ask him lots of questions about his winemaking techniques he'll glaze over pretty quickly and try to change the subject to fishing. Talk to him about his soil and how he works the vines however and he'll chat away till the cows come home. He is farmer first, winemaker second and splits his time and effort accordingly.
"Daddy, you smell like soil," says our three-year-old Eddie when Neil walks in the front door at the end of the day. Only in the month-or-so of vintage do his hands soften up, his nails turn purple and his aroma switch to something more palatable.
So how does a wine farmer approach the biggest question of all: What farming system to use on his property?
Fresh out of university with a degree in viticulture and oenology under his belt, Neil spent his early winemaking days resigned to the knowledge that the vast majority of vineyards are farmed conventionally – ie where weeds are sprayed with glyphosate (aka RoundUp, now a known carcinogen) so as not to compete for water with the vines, and the vine leaves and bunches sprayed with other systemic chemicals (ones that enter the 'bloodstream' of a plant) to minimise crop loss and thus maximise profit. That's what the textbooks said to do and so that's what everybody did.
Five years and several vintages in France later and the young man brought up in a family where it was homeopathics before antibiotics started to feel very uncomfortable about this method of growing something you were expected to put in your body without question.
A small winery in Stellenbosch Neil was running at the time became the first place he started to challenge the textbooks. He bought whipper snippers to keep the grass down under the vines, used contact only sprays that washed off the leaves and bunches with rain and dew to combat mildews, started building compost heaps and infusing them with Biodynamic preparations to rejuvenate the soils, and began to feel a whole lot better.
When we bought The Wine Farm four years ago, for the first time becoming stewards of our own parcel of land, the first thing we did was purge the place of chemicals. This was our home, where we would raise our children, and given the lengths we go to to grow and source chemical free food for our family there was no way we were going to poison the very air we breathe.
We have never sprayed a weed on the farm and never will. We started farming the grapes using strict organic principles before we'd even exchanged contracts on the property in 2014. We also knew that a vineyard sprayed with herbicides has far fewer microorganisms – the unseen heroes that truck minerals and nutrients from the soil to feed the vine and allow the grapes to express terroir. And we had faith that with a bit of love the soils we had inherited could be nurtured back to life and in turn the vines and wines would flourish. Our faith was rewarded with harvests just two and three years into our tenure yielding higher than those in the best seasons and the days of synthetic fertilisers, and with fruit quality that got us hot under the collar.
So farming organically made us feel good because we weren't exploiting our terrain, but we wanted to do more. We wanted our property to really sing. We started getting curious about Biodynamics and a bit of research revealed it's not all frolicking in the moonlight and farming at the whim of the cosmos as we'd previously suspected. Turns out there's a highly practical, agriculturally savvy branch of this regime that is right up our alley. We decided that being serious about farming – wanting to produce something unique to our land and giving our children the opportunity to do the same – means Biodynamics is the farming system for us. The most efficient and effective way for us to work with nature.
Two months ago we put down our first Biodynamic spray and next year we hope to be able to call ourselves Biodynamic. We'll tell you more about what that involves in an email soon.
So John, that's the gist of what went through our minds when we came up with the name "The Wine Farm". No brainer.
Cheers
Anna