Summer cellar door… 2020 style
December 22, 2020
Dear friends
We're very excited to finally be able to welcome you back to our place with our new, COVID-safe cellar door experience. We're now taking bookings for a seat at our new vineyard bar where Neil and I will pour our wines to small groups of interested folk and tell you all about how we farm them.
This won't be the sort of tasting where we sniff and swirl and whisper meaningfully about weeping violets and under-ripe hedgehogs. We want to take the opportunity of having you on our farm, drinking our wine as you overlook the vines that produced it, to share with you some of the things that matter to us most. Like plants and soil and microbes and how growing delicious things and doing our bit to regenerate our land go hand in hand. About biodynamic farming and why we reckon it's the most elegant farming system around. And about how, as consumers, we all have a crucial role to play in supporting those farmers who are making the best decisions for their customers and our planet.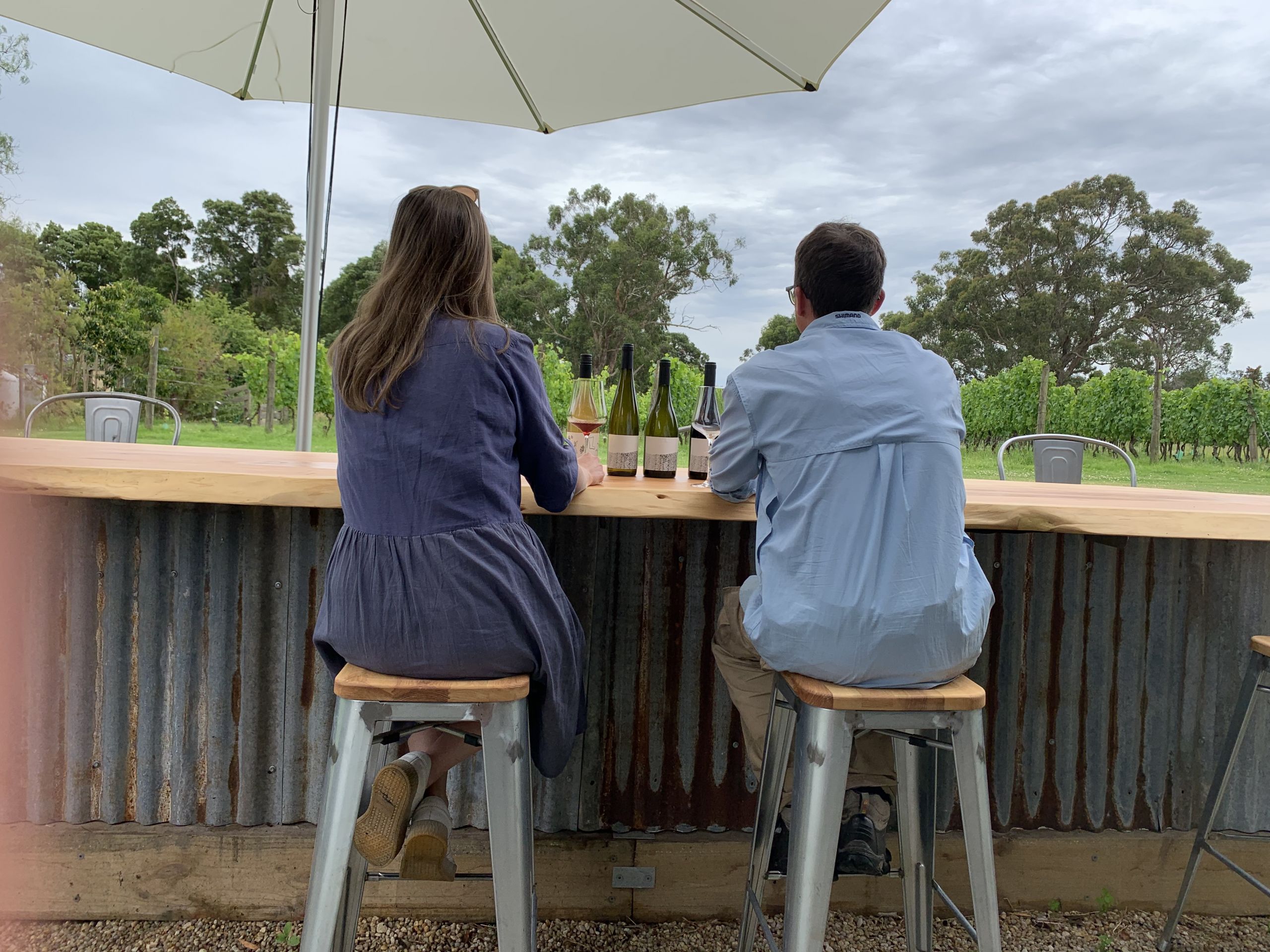 Kudos to our five year-old, Eddie, for this photo of Neil and I celebrating the end of our lockdown project 'hey, let's pull out the veggie gardens and build a bar'. That's Eddie's thumb on the left 🙂
We'll taste through a changing selection of bubbles, pinks, whites and red and chat about some of the hundreds of decisions we make in the vineyard and the cellar that ultimately lead to what's in your glass. There'll be plenty of time to ask questions too.
We want you to learn lots and walk away from our cellar door inspired, hopeful and richer from the experience, with the confidence to ask the hard questions. Perhaps with a bottle or two to share with friends while you inspire them to start asking questions too.
We want you to drive out of our gates knowing you'll never look at wine and how it's farmed the same way again.
We'll be open most days from Monday 28th December till the end of school holidays (with a few days off here and there to take our kids to the beach) and Saturdays during February till we shut up shop and start picking again.
Find a session that suits and book your seat at the bar here.
We can't wait to chat.
Cheers
Anna and Neil