Our pet project
September 12, 2018
Dear friends
Pétillant Naturel (or Méthode Ancestral) is the oldest method of producing sparkling wine, and the most natural. Unlike Méthode Champenoise, which involves the addition of refined sugar and sweetened wine at various stages of the process to control the bubbles and correct the final result, 'pét-nat' is a very risky business.
In this method, the grapes are pressed and the juice fermented until precisely the desired amount of natural sugar remains. The wine is then bottled and fermentation continues under crown seal until the yeast cells deplete the residual sugar. We walk a very fine line when deciding when to bottle – too early and the final product is too sweet or potentially so bubbly the bottle literally explodes mid ferment; too late and the result can be overly dry and flat. But when you get it right…
Pétillant Naturel has seen a bit of a resurgence in recent years. But while it's great to see new players embracing old ways, the final products are a mixed bag. It's become a bit of a thing within the industry that pét-nat should not be taken too seriously.
Naturally, we disagree.
If you like your pét-nat cloudy, gritty and big beaded with a shower of foam upon opening, look away now. Having devoted some of the best grapes in our vineyard to one of the riskiest styles of winemaking, we want the final product to be nothing less than beautiful, sparklingly clean and pure.
The Wine Farm Pétillant Naturel is made entirely from one of the greatest varieties on the planet: Pinot noir. And we use the oldest vines on our farm to do so – 30-year-old Pinot noir vines planted on their own roots in one of the few truly cold climes in Australia. The grapes are purpose farmed and picked at their peak for sparkling wine before being very slowly pressed, whole-bunch and cold. The juice is then racked off its lees (or spent yeast cells) twice before primary fermentation and a further five times before bottling, meaning a lot less lees makes it into the bottle than in a typical pét-nat.
We bottle when the fermentation is about 80% complete – 10-15% earlier than most. This means a lot more bubbles in the bottle, more bubbles means more pressure, and more pressure means a finer bead with tiny bubbles that go on forever. We also age the wine for a minimum of 16 months on lees to develop the yeasty, bready qualities we enjoy in a Champagne, before riddling any remaining lees into the bottle neck, disgorging them from the bottle, topping with another bottle and finally capping a crystal clear sparkling wine.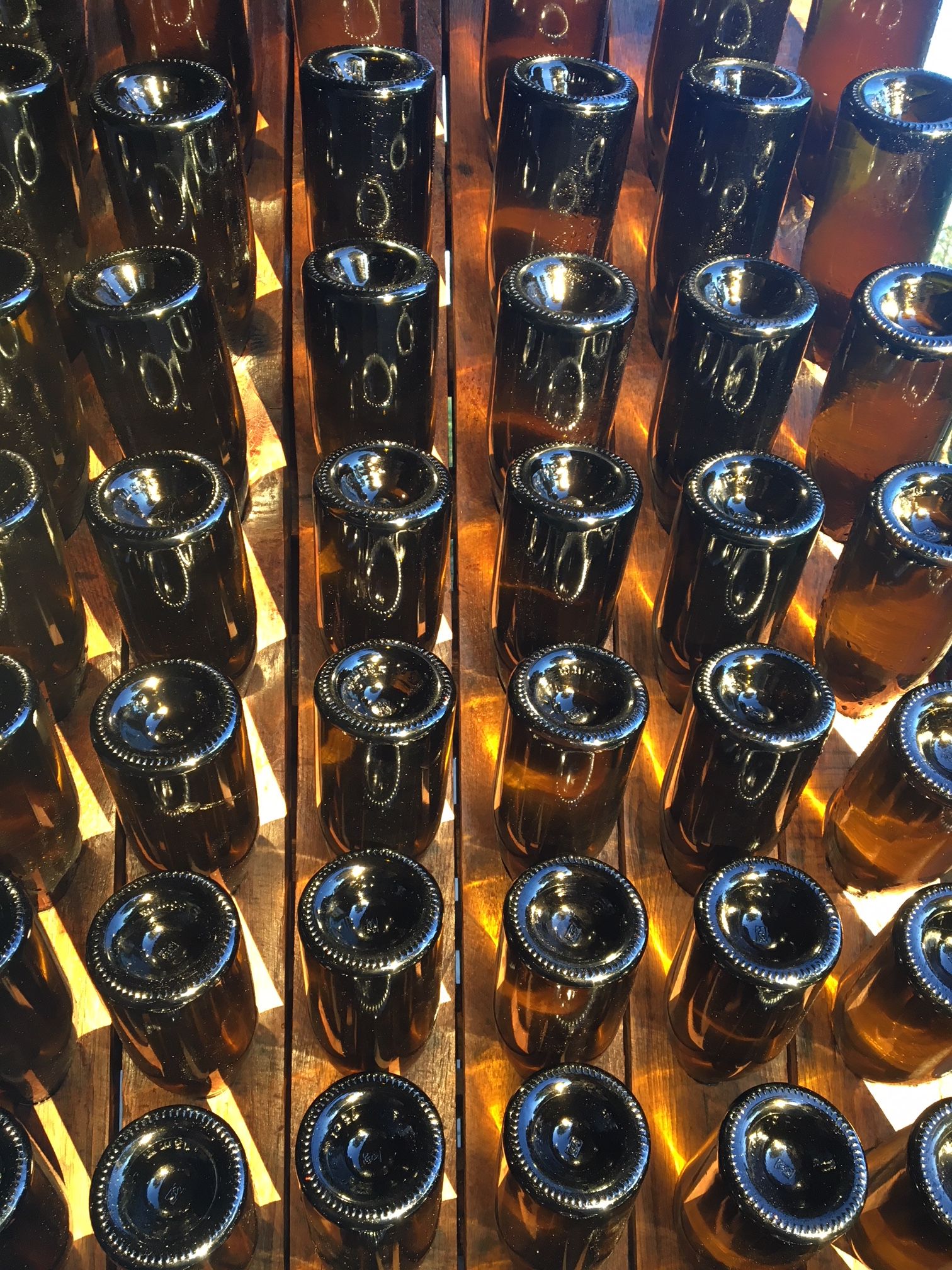 There's nowhere to hide with our pét-nat. With no added sugar, zero sulphur, no additions whatsoever, you are literally left with grapes in a bottle. So those grapes had better be good! In fact this is the best wine in our stable for showcasing the vintage. And the 2017 growing season, with its moderate, dry days and cool nights, meant flavour was formed and retained in the grapes and acids were high yet feminine. It was a great year, and a great year always translates to a high quality Pétillant Naturel.
A nose of apples, lemons, oyster shell, strawberries and tamarillo; the palate tickled by an abundance of tiny bubbles followed by the fruits of green apple, grapefruit and strawberries and a lovely acidity that lingers around the yeasty, leesy texture.
Despite the risks, the only issue we have with this wine is that we can never make enough of it! Having put aside some bottles to age on their lees for another 3-5 years, and with restaurants in Melbourne and Sydney standing by to take whatever you guys don't want, we're afraid this will be your only chance to get your hands on this wine. [SOLD OUT – please sign up to our mailing list to hear first about new releases].
What started out as a pet project is now something we take very seriously and are proud to hang our hat on.
Cheers
Anna