Vintage 2020
June 30, 2020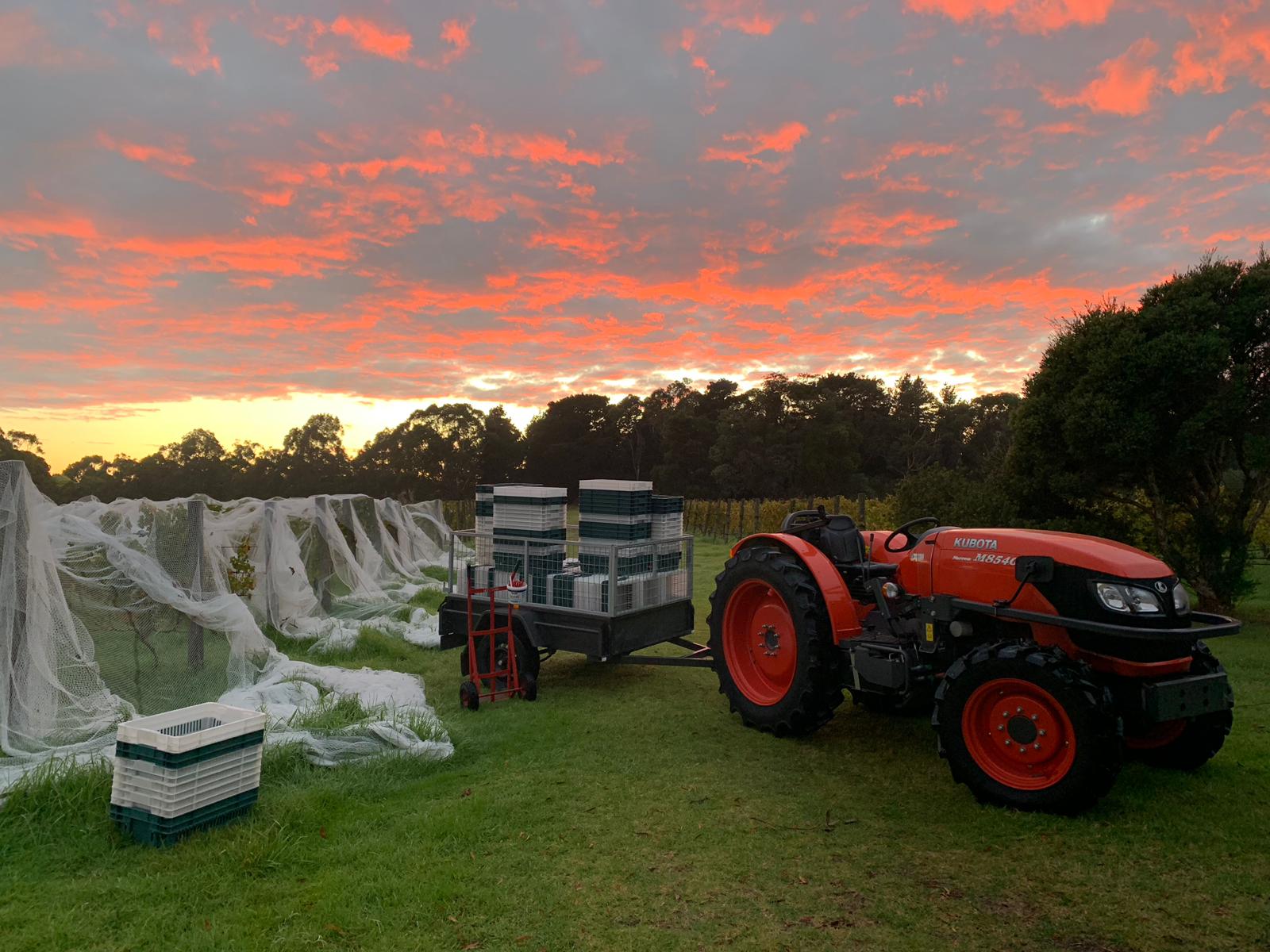 Dear friends
We've been a little quiet of late. There's been a bit going on. Or rather, with so many curve balls thrown at us these last six months, we've needed to take some time to process it all.
Every year, when the last crop of grapes has been picked, pressed, nurtured through fermentation and finally popped into the cellar to work its magic, we like to pause and look back over the vintage that was, noting any significant events for future reference. It's almost hard to know where to start with vintage 2020. The sixth on our farm and, while no two vintages have been the same, this one was right off the charts. We thought you might be interested to read our vintage notes from what was a wacky ride in the world of wine.
Neil keeps records in his little green book. He likes to divide the vine's growing cycle into three stages – budburst to the end of flowering; fruit set to the start of veraison (where the berries change colour and soften); and veraison to harvest – and note down what happened during each. The amount of rainfall and sunshine, temperature fluctuations and any other unforeseen events have a strong bearing on the resultant wine, increasingly so the closer we get to picking.
On the 29th November last year, as we neared the end of stage one, Neil scribbled this in his trusty book:
"Flowering is mostly complete in the Pinot noir and Chardonnay, about half way through in the Riesling but yet to start in the Syrah. The canopy is neatly tucked away and the vines are getting their first trim – top only for now, back and sides in a week or so. There was plenty of rain in the winter. September was also wet for budburst but dried out a little during October with just 44mm falling in the month. But if the rain doesn't fall in October here, it falls in November; we farm in the dairy capital of Australia after all. Sure enough, this month the gage clocked 85mm and there's more to come next week. Besides a couple of hot days it's been a relatively cool spring with not a lot of sunshine. Luckily there's been plenty of wind to keep the vines dry and the Downey mildew at bay. Flowering started later than usual this year and was long and protracted due to the cool weather. Overall there's good fruit set in the Pinot noir and Chardonnay and with exceptional growth this year. Now, with a warm and moist soil, all we need is a bit of sunshine and we're all set for a good ride until veraison and the beginning of the ripening period."
Well, doesn't that sound peachy!
Christmas was time for a few days break in the heart of the growing season to recharge the batteries for the big job ahead – taming all that glorious growth in the vineyard to capture the best of the season in the bottle come harvest time. All we needed were a few rays and, as we were embarking on South Gippsland's peak beach season, we were feeling confident.
Then came the bushfires. My brother and his family were some of the last to cross the border from coastal NSW to join us for new years. But instead of counting down to midnight together we were glued to the socials, monitoring the fire as it roared closer to their home and more and more of their neighbours evacuated to the beach. We all felt very lucky to be so far away from the devastation.
But smoke travels.
A couple of tense weeks later my brother's house was still standing (still is, thank goodness) but a westerly wind had pushed the smoke as far as our postcode. Looking over the vineyard was like a scene from the Somme. The first few rows of posts could just be seen poking their heads through the haze, but beyond that, nothing but a thick blanket of fog. We were hopeful that being relatively early in the fruiting phase – still three weeks out from veraison – the berries were too small and hard to let the smoke permeate their skins and make its unmistakeable mark on the wines. But with talk of smoke taint being thrown around left, right and centre, the worry was real. In any other year we would certainly have been at risk, but in 2020 the weather gods were shining on us, so to speak.
January, normally a fairly dry and warm month in these parts, gave us unprecedented rains (112 mills or, as per Neil's technical notes, 'a crapload'). And when the local ice-cream vendor complained that summer sales were a little low for her liking, we smiled. Another validation of our move to cool climate Australia. We've always been scared of the summer sun and its potential to bake our precious fruit into a style of wine we don't enjoy – overripe flavours, low acidity and way too much alcohol. But last summer pushed us out of our comfort zone in the other direction. It was possibly too cold even for our cool climate fruit. Harvest was so very late – the cool days and nights meant it took our grapes a solid three weeks longer to ripen. This is great as far as the coveted slow build of flavour while keeping those beautiful acids nice and high come picking. But terrible for the nerves! Would they ripen at all? Thankfully they finally did. Another silver lining was that harvest was a walk in the park. We had our smallest crop by far!! Oh the highs and lows.
As the grapes came in and the juice started to settle out after each ferment, we discovered there was absolutely no evidence of smoke taint. We were in the clear. Phew!
And then came the pandemic. Midway through picking we got the news that everything was coming to a grinding halt – our market and that of so many of our peers with it. Geez!
But here we are, eating our autumn figs in winter. Grateful for the support we've received from housebound customers venturing into our online shop. Thankful that the bottles in store are only improving as the poor restaurants we supply attempt to navigate the ever-changing landscape and crank back up into some semblance of normal trading. And thrilled with the quality of the wines that are resting in just a handful of barrels in the cellar. All those empty tanks probably needed a break anyway… Here's to a glass half full.
Cheers
Anna