Stop and smell the poo
February 17, 2021
Dear friends
As summer – or something with the same name that saw us stacking the living room fire almost as often as we donned our swimmers – draws to a close, a snap lockdown gives us pause to reflect before we dive headfirst into vintage 2021. The nets are all on as the berries slowly start to change colour meaning the vineyard work is done for another growing season, and our summer cellar door has creaked shut as we recharge the batteries in time to start picking.
We changed things up at our cellar door this holiday season. Not just to keep everyone COVID safe but to really make the most of having so many listening ears and open minds on our farm. We didn't feel right just pouring wine and talking about the superficial stuff to whoever happened to pull in. We put in place a booking system and figured that anyone who made the effort to come to our vineyard and take a seat at our tasting bench might just be interested to hear what's on our minds and what we're doing about it on our farm, while tasting the results of our efforts in their glass.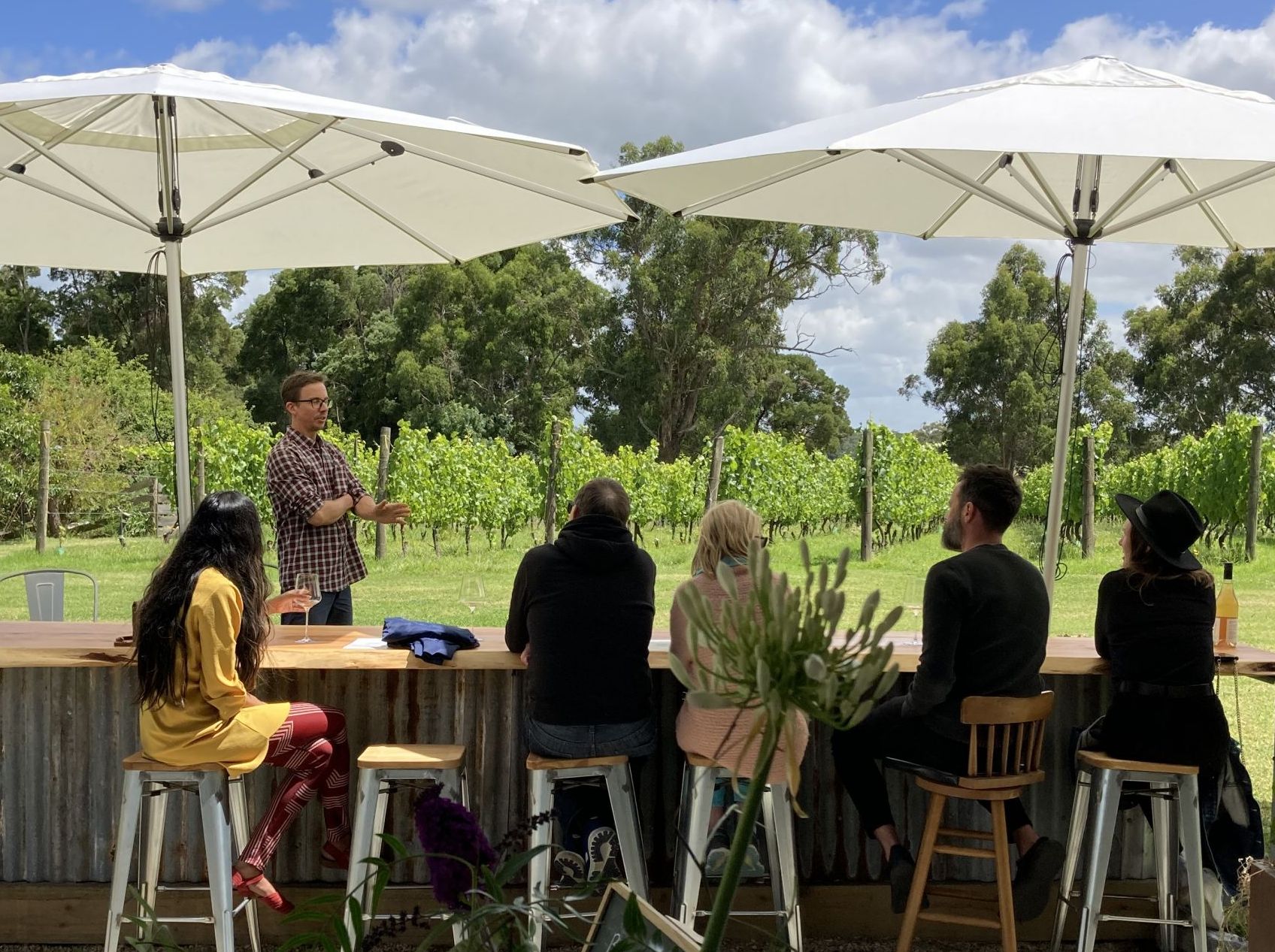 You see, we've come to realise, particularly during this last year of a global pandemic and escalating climate crisis, that making a luxury product isn't doing anything particularly good for the world. We are very conscious of what we consume and do whatever we can to support businesses that operate in a way that regenerates, rather than extracts from, the world around them. Yet here we are, growing and making a product no-one really needs, and using precious resources in the process. So how do we sleep at night?
Firstly, we take the stewardship of our little parcel of land very seriously. We farm it in a way that gives more to our soils than it takes, and without the use of toxic chemicals that would enter our atmosphere and waterways – not to mention our customers. Those that visited us this summer know just how passionate we are about the farming methods championed by Australian Demeter Biodynamic and how proud we are to be just months away from fully certified under their umbrella.
Secondly, now that we've successfully farmed our little vineyard 'unconventionally' for six years we're feeling more confident and hungry to scale up and regenerate a bigger tract of land. To this end we're excited to let you know that we've recently partnered up with some like-minded friends and family to secure a beautiful and much bigger site 1.5km down the road that we are already converting to biodynamics with a view to gradually planting up new vineyard blocks over the coming years. We're also using this site to take part in a Landcare project studying how various fungi and bacteria can affect a soil's ability to draw down carbon. We believe farmers have enormous capacity to pull carbon out of the atmosphere and help reverse climate change. They just have to cut out the chemicals and start building the organic matter in their soils. We reckon if you can, you should – but especially if you're only making a luxury product.
Thirdly, we want to do our little bit to help spread the word. To our peers, who might need a little convincing that you can farm a vineyard without chemicals and still make a living. We're doing ok and we're here to help! We would dearly love to see more vineyards farmed organically and biodynamically so that our industry can do its fair share of repairing the damage (and so that we have more local options to drink!) And also to the market at large. Thankfully there has been a positive shift in the number of people thinking about where their food comes from and how it's produced. There's still a long way to go but regenerative food farmers seem to be enjoying a little more well-earned support in the market. However there's a definite lag when it comes to wine. Many might make the effort to visit their farmer's market or local organic shop and fill their baskets with well-farmed, wholesome food to feed their family. But the chances are if it's wine they're after to help wash it down, most people will still happily pop into the bottle shop on their way home and grab something at the right price, made from a variety they like and probably from a region they're familiar with. But as for how it's farmed? How would they even know? With so many buzz words and pretty labels to choose from, chances are the retailer doesn't even know how the grapes were actually grown. But you can bet the vast majority, unless you happen to have popped into one of the handful of boutique wine stores that exclusively seek out organic and biodynamic producers, have been farmed conventionally. With chemicals. Missing the opportunity to draw down a little carbon with each bottle.
It's a drop in the ocean but we're hopeful that the few hundred people we chatted to at the tasting bench this summer, many of whom are now on this mailing list, will stop and ask a few more questions before reaching for a bottle. They might remember the lush green growth they saw beneath our canopy, instead of the typical strip of scorched earth, and the microbes and earthworms that have been allowed to thrive and do their bit to store carbon and deliver nutrients and flavour to our vines, instead of being nuked in the name of weed management. They might remember the importance of letting a plant feed when it needs and how it wants, rather than being force-fed synthetic fertilisers through their water rather than feeder roots, when it suits the farmer rather than the plant. Or at the very least they'll remember Neil offering them a jar to sniff as though it were a fine wine. Only to discover they were actually smelling poo. But not just any poo. Cow poo of the most powerful (odour-free), soil regenerating, planet-saving kind – the cornerstone of the biodynamic method.
Our tasting sessions were far from your conventional cellar door experience. We loved seeing light bulbs switch on and sparking so many great conversations about farming and its role in our future. But we could talk till the cows come home about different farming methods and how producers have the power to save the planet and it won't mean a thing unless consumers act on this knowledge and put their money where their mouth is. We all work hard for our cash and that gives us every right to ask the hard questions to make sure it's going to a good home every time we make a purchase. Every dollar we spend is either helping or hurting the planet.
Neil and I talk heatedly about these things on a regular basis, but the revolution won't happen around our dinner table, even if everything on it is organic. Through our cellar door and these emails we hope to encourage a few more people to ask questions, seek out and support producers who are farming with integrity. Regenerating not extracting. Nourishing their soils, not their profits.
Industrial agriculture has a lot to answer for and we want our kids to grow up knowing we did everything we could to be part of the solution, not the problem.
Cheers
Anna