Pure ain't simple
June 8, 2018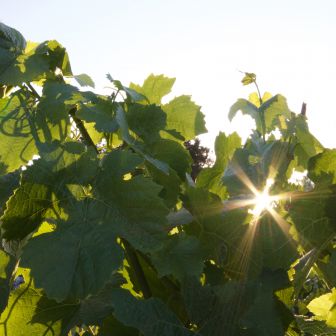 Dear wine friends
Here at The Wine Farm we work hard to make pure wine that shows place not process.
It's taken us a long time to come up with those few words, and while they might not sound like much to you they mean the world to us. It's one short sentence that describes everything we do; it's at the core of every decision we make in the vineyard and every step we take in the winery. And it seems like a good place to start our conversation.
Pure wine is how we've come to describe the sort of wine we love to drink and therefore what we aim to produce: wine that comes from carefully farmed grapes (and always without the use of harmful chemicals), harvested at just the right time and handled with respect so as to retain the 'inner energy' we so enjoy. Pure wine is not just clean and unadulterated. It's not boring. It has something about it we've always found hard to describe. 'Energy' is the best we can come up with for now – it has its own drive and charisma. Pure wine has an innate quality that can only shine when the grapes and wine have been guided by a gentle hand.
Pure wine shows place. We believe grapes are the ultimate messenger when it comes to expressing site. Tomatoes, beer, asparagus, whisky… no other product we've come across speaks as strongly of the soil from which it hails. Pure wine is grown and made in a way that respects the unique site in which the vines grow and allows it to express that in the glass.
Pure wine does not show process. Whether lazy farming or winemaking, overuse of oak or skins, added acid or too much sulphur, there are a multitude of winemaking techniques – both conventional and 'natural' – that we believe interfere with the integrity of the fruit and as such we don't subscribe to. We don't have a name for the way we do things, we just do what we believe is best for our grapes to become the best wine they can be.
The Wine Farm is a special place. A place where a convergence of ancient soils has sprung an artesian well; where deep red fertile soils meet lighter grey loam, and in a true cool climate. We want our wines to express this unique set of circumstances and everything we do here is about retaining that message in its purest form.
The way we farm (always organic and as of three weeks ago converting to biodynamic) and how we guide the fruit gently through the winery and into the bottle will be the topic of many of our future emails. We'll delve into the decisions we make at each step of the journey, such as how we combat weeds, why Neil hedges our canopy like a ninja, why we believe the picking date is 80% of determining a wine's style, and why we never use a pump in the winery. And you'll see that the hundreds of decisions we make along the way are all about one thing: safeguarding the unique place that produces our wine. Keeping it pure.
Cheers
Anna and Neil