Let's talk about the weather
April 20, 2019
It was 37 degrees in the shade as I gave my standard answer to a common question at the cellar door this summer: "Why did you guys choose this area to grow grapes?"
The cool climate.
While this first-time customer attempted to stifle a chuckle I tried to explain.
'Cool climate' is a term that gets used a lot in the wine world but not always appropriately. Having snow on dormant vines during winter doesn't count for much when those same vines are baking in relentless heat throughout their crucial growing season. It's the weather during ripening that really counts, and the closer to picking the more of an impact it has on the ultimate style of your wine. A few hot days after the flowers have set fruit and before veraison (when the berries start changing colour) is a good thing. It keeps the berries small, and small berries means more flavour; more concentrated, richer wines. That's why I was able to keep a straight face when I answered that question on a hot day at the cellar door two months before we picked. But a prolonged bout of hot weather in the weeks and days leading up to picking is a different matter. That's going to have a major influence on the expression of your wine.
We love drinking wines grown in a true cool climate. When the grapes slowly gather flavour during long days of sun but plunging night-time temperatures keep acids nice and high, you end up with wines that have a beautiful balance and purity to them. With fruit and natural acidity in perfect harmony these wines are free to tell you where they're from.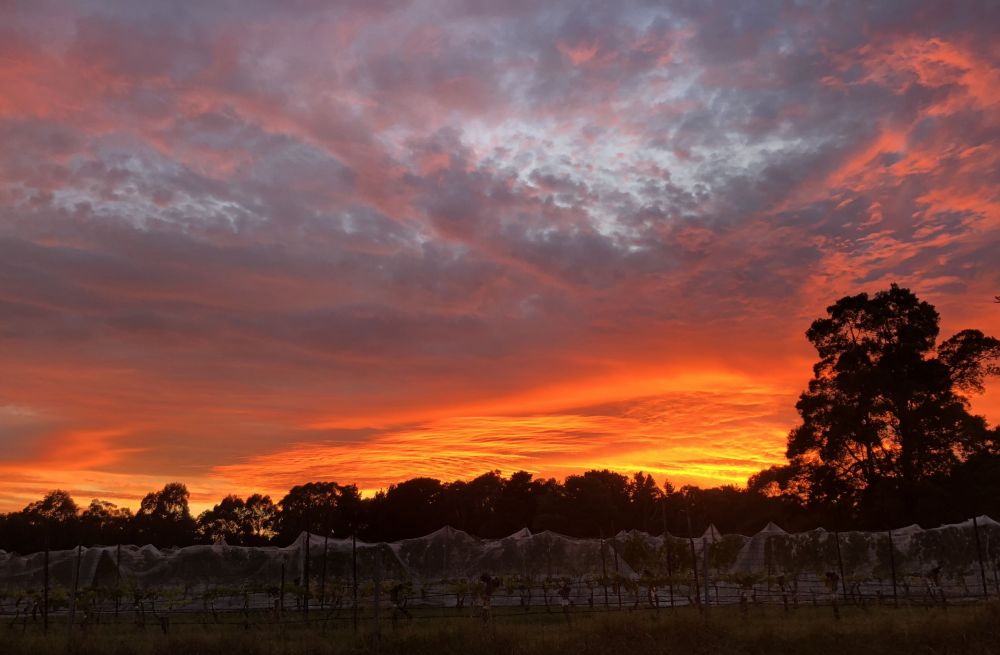 And picking your grapes early in a warm climate to avoid excess heat is not the same as growing them in a cool climate. We'd still choose to drink these wines over the jammy, alcoholic bombs that result from overbaked fruit (often with added acid as the natural acidity has well and truly dropped out), but they do have a definite 'greenness' to them; they're slightly, or sometimes very, under-ripe and have a harsher acidity that's out of whack with the underdeveloped fruit flavour. When the fruit is either over or under ripe it's very hard for the wine to speak of place.
But even if you're blessed with those sunny days and cool nights as the berries change colour and inch towards ripeness, it can all go pear shaped if you get the picking date wrong. Of the hundreds of decisions to be made, from how you prune your dormant vines right through to when to sink the cork into the finished product, it's deciding when to pluck the grapes from the vine that has the single biggest impact on the style of wine you make. Each year, once the berries have changed colour, we watch very closely as the flavours develop, the sugars slowly climb and the acids reach their peak. We only make the call when they're in perfect balance.
Of the five vintages we've experienced now on The Wine Farm, the picking decision in 2019 was the trickiest yet. Now that vintage is officially over – our last major task of bottling the '19 pét nat completed this week and our fabulous backpackers on the road again to surf their way to WA – it's time to reflect on the roller-coaster of a season we've just had, how the grapes looked at picking and therefore the style of wine we're looking at this time around. We'll try to make some sense of it all over the next week or so and fill you in in our next letter.
But despite the challenges of the weather this year, we're really happy with how the wines are looking at this early stage and feel completely validated in our decision to put down roots in South Gippsland. We knew the weather was right to grow the wines we like to drink. And if South Gippsland ever becomes a warm climate, then the vast majority of other wine regions in Australia will have switched to growing wheat and sheep so we'll still reckon we've made the right choice!