A kick up the bum
March 28, 2020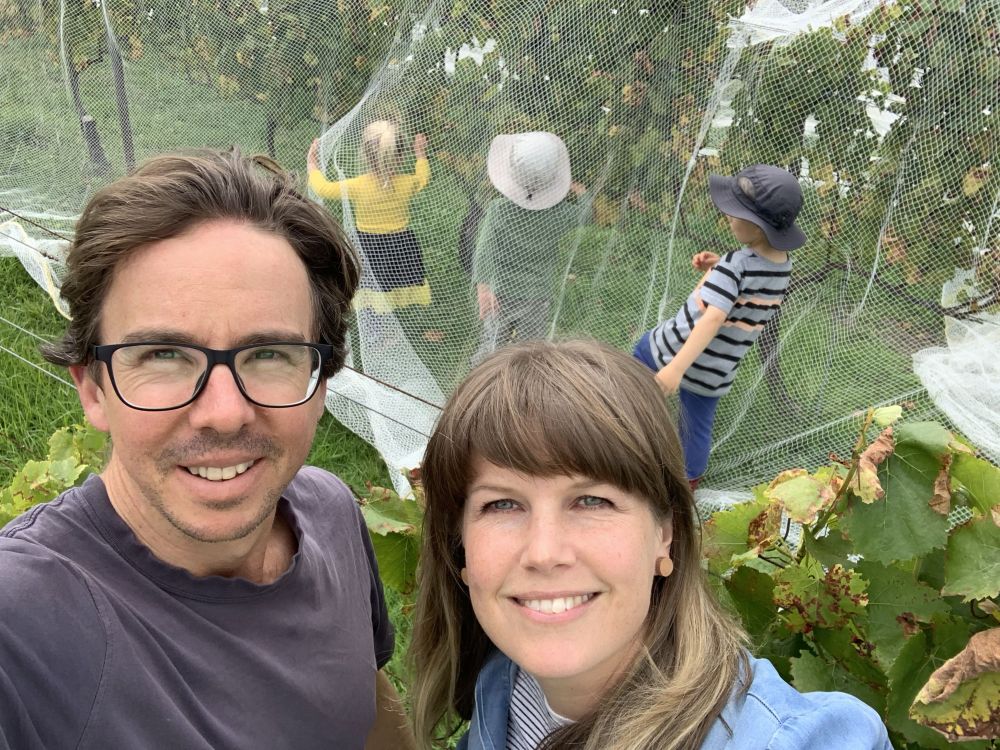 When we signed off on our last letter of 2019 we had no inkling that our next would be from a different world. March typically sees us in voluntary self-isolation anyway as we shut out all distractions and focus our energy into harvesting our crop, slowly and gently, ensuring all the work of the growing season is rewarded with crate after crate of pristine grapes entering our cellar. This year's vintage is several weeks later than any we've seen before thanks to a cool summer, but other than that day-to-day life for us right now feels fairly familiar – extra curricular activities go on hold at this time of year anyway.
But as we started to learn of the impact of COVID-19 spreading its grip around the world, and our customers started to shut up shop as it reached its tentacles ever closer, we felt the paradigm shift even in our little oasis.
Looking out over the vineyard this morning, just under half the nets are still in place. This means we've broken the back of harvest and our Pinot noir, Pinot gris, and Pétillant naturel grapes are all safely in the cellar doing their thing. But as we snip each bunch from the vine, I can't help but fixate on what the world might look like when the bottle of wine these grapes are destined for is ultimately uncorked. Which of the restaurants that have supported us so well to date will still be there to tell our story and pour our wine for a table of friends celebrating together, sitting side by side, perhaps even sharing their glass.
Since we started our tenure on The Wine Farm five years ago the vast majority of our time and energy has gone into nurturing our family and our farm. From day one we set about farming our land organically and are now months away from being certified Biodynamic. But farming this way comes at a cost. It is physically harder and takes more of our time than farming conventionally with chemicals. This means we haven't had much capacity to actually market the product we create. Other than these letters and a handful of cellar door days a year where we get to meet our lovely end consumers face to face, we have always relied on our wonderful distributor and the pool of fabulous restaurants they service to provide a home for our wines. Suddenly that pool has dried up.
On the plus side we see this as the kick up the bum we've needed to put more effort into selling ourselves and ultimately building a more resilient business, while continuing to farm and make wine with integrity. We're not going anywhere and are incredibly lucky to own the land that underpins everything we do. But things have changed and we can no longer rely on those further along the chain to make our business viable. Once we've put this vintage to bed we'll turn our thoughts to what that will look like and how we evolve.
In the meantime, with more closures announced every day, a lockdown looming and the delivery of non-essentials likely to be restricted – and with it our last possible income stream – time is of the essence.
If a few bottles of wine in your pantry are going to help you make the most of this next challenging phase of our lives (lord knows my glass of wine at the end of a day of home-schooling has already become a lifeline), please consider buying them from some of your favourite small producers. You rarely see these little family-run businesses in the big retail outlets that will probably be the major survivors of this shutdown, so every dollar you spend directly with them will mean the world.
Email anna@thewinefarm.com.au and I'll email you back a list of the wines we currently have available with prices and delivery options. Feel free to mix and match, make up a case with a few friends and get free delivery anywhere in Australia by keeping orders to multiples of 6. (For our local customers orders of 1 or more bottle can be delivered to your door for free.) This service has always been available, we've just never really talked about it 🙂
Next we pick our Syrah, destined for rosé, and hopefully to be consumed in much rosier times for all.
Stay safe
Anna