A brief history… and wine
December 13, 2019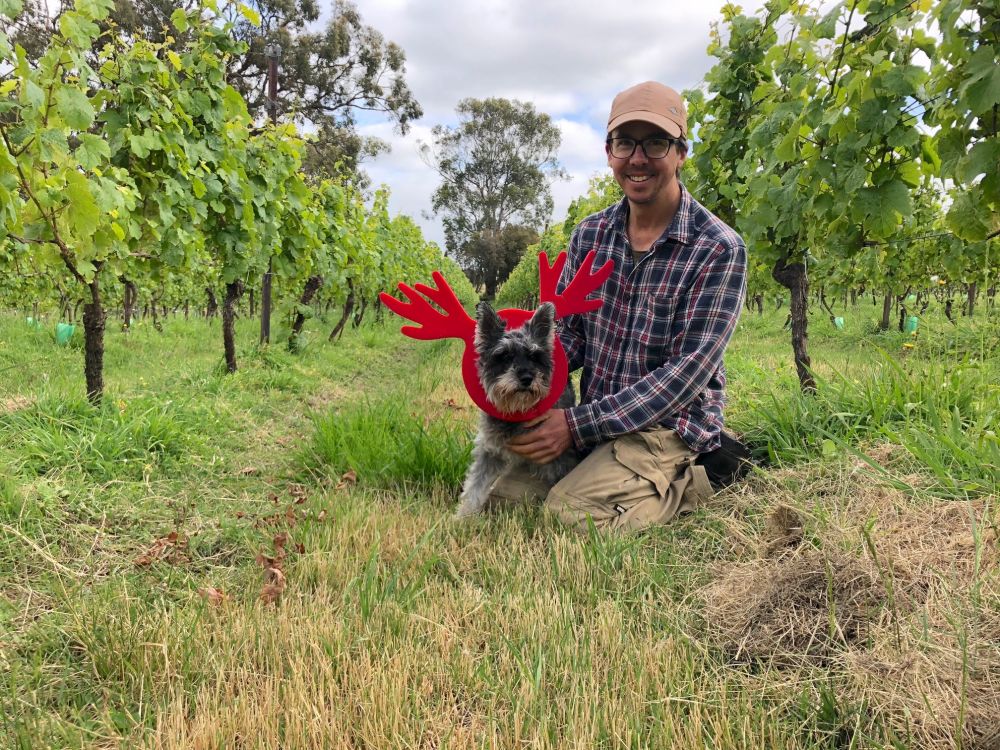 Dear friends
With the end of a decade just around the corner we're feeling a little reflective. 10 years ago Neil had just made the move from the winelands of South Africa to join me in my two-bedroom apartment in Sydney. We'd just got engaged but weren't quite ready to commit to a puppy. Definitely no children yet. All our disposable income went towards wines we really couldn't afford and taxis home from restaurants in the same category. The pots of herbs in our postage stamp courtyard were dying from neglect. Life was fun.
And then the grown-up stuff started. First a wedding, then came Squid, our mini Schnauzer, then a monumental leap from the city to a point on the map where we didn't know a soul but saw potential in the climate and the soil. Then came baby number one, the purchase of The Wine Farm, baby number two, the release of our first vintage, baby number three… Now any money coming in goes straight into the vineyard or new tanks and barrels in the winery. A new press is our Christmas present to each other this year, so the romance is still alive. There's only one taxi in South Gippsland and we're yet to experience it. My herbs are thriving.
We've only had a short history on The Wine Farm but five years in we're steadily gaining knowledge of the seasons in our new home and how the farm responds. We bank this knowledge in a special corner of the cellar. It's called library stock.
We always squirrel away a few bottles of each release to see how they develop over time. At this stage of the year we like to browse the library shelves and check out a selection of wines from previous vintages to help frame our thoughts about the season at hand. How are they looking with age and what can we do in the ripening period ahead to do better.
This year we're delving into the Rieslings. Dry Riesling, when done well, has it all – good acidity, grip, length, aromatics and texture. It's one of our favourite grapes in the world and definitely one of the best to pair with food. The perfect partner to virtually any Christmas dinner I can think of.
But our 2019 is still aging in tank and cask, our 2018 is aging in bottle and won't be released until next spring, and our 2017 sold out to the market a few months ago. Luckily, because we're hoarders, we held a little back from the trade both to drink ourselves and to offer to those of you who might be interested too. We're also going back to the beginning.
On offer today is a small allocation of three vintages of Riesling from The Wine Farm: 2015, 2016 and 2017.
The Wine Farm Riesling 2015 
Every now and then someone will ask Neil, 'What's the best wine you've made'. He'll typically skirt around the question not wanting to reveal which of his children he loves the most, but I know he is secretly very proud of the 2015 Riesling. This wine is electric. It's aging gracefully with no signs of wrinkles or grey hair. It has great texture and an incredible drive on the palate. The result of a beautifully cool, gentle vintage.
The Wine Farm Riesling 2016 
2016 was a drier vintage with a warmer ripening period resulting in smaller berries and a lower yield. All of this means a very different wine to the 2015 – richer, fruitier, a touch less acid but a more concentrated finish. It's always fascinating to see how the same grapes in the same soil handled the same way in the cellar can deliver a very different drink, just down to the weather.
The Wine Farm Riesling 2017 
Back to a more classic cool climate Riesling again in 2017 with weight and tension on the palate, though not quite to the degree of 2015. This is the elegant sister to the masculine brother of 2016. Full malolactic fermentation (as per all our whites) gives texture and breadth to an otherwise classic, acid-focused palate with a stony minerality. Classic Riesling with an edge.
If any of these tickle your fancy, or you're curious to see two or three of them side by side, let us know and we'll raid the library and can have them with you by Christmas. Or if you're short of anything else for the festive season – pink, white, red or bubbles – drop us a note and we can help out with those too.
We'll be back soon with our notes on the 2020 season so far. Perhaps in the new year when the bird nets are on and we pause to catch our breath before the first harvest of the decade. A decade we suspect will make the last one look like a walk in the park.
Merry Christmas from our family to yours,
Anna