Winter whites
July 10, 2020
Dear friends
Fire roaring, delicious dinner smells wafting from the kitchen, woollen socks warming your toes and a glass of something in hand to warm you from the inside out. Chances are you're picturing that glass generously filled with something red. Hearty winter fare means gutsy cabs or at least a fruit forward pinot, surely?
I beg to differ. I'm a big fan of the winter white and my mission today is to challenge any long held associations you might harbour. Sure, the thought of a crisp chilled glass of Sauvignon blanc or a delicate Pinot gris leaves me cold on these chilly evenings. But give me a white with a little more depth and richness, good natural acidity and, importantly, served at the right temperature, and that's exactly what I feel like drinking with so many of the warming meals we're eating these wintery nights.
Let's start with a no brainer – a glass of just chilled chardonnay perched alongside a heaving plate of beautifully roasted chicken. Plenty of fruit flavour in the wine to stand up to the butter and herbs stuffed under the crispy skin, and natural acidity that's made for cutting through crunchy roast potatoes and gravy. Yum.
Or another family favourite – slow roasted pork belly with a Szechuan pepper rub (Neil's signature dish), perhaps with a warm red cabbage and apple salad on the side, washed down with a bottle of dry Riesling. The citrus and honey notes in the wine turn the pork into a showstopper and the burst of acidity is perfect for refreshing the palate, preparing it for another attack on that oh so decadent crackling.
Another combo we love here is sipping on a Gewürztraminer while slurping noodles from a steaming bowl of spicy Thai coconut soup. The lychees on the nose could be straight out of a red duck curry making this wine its perfect partner.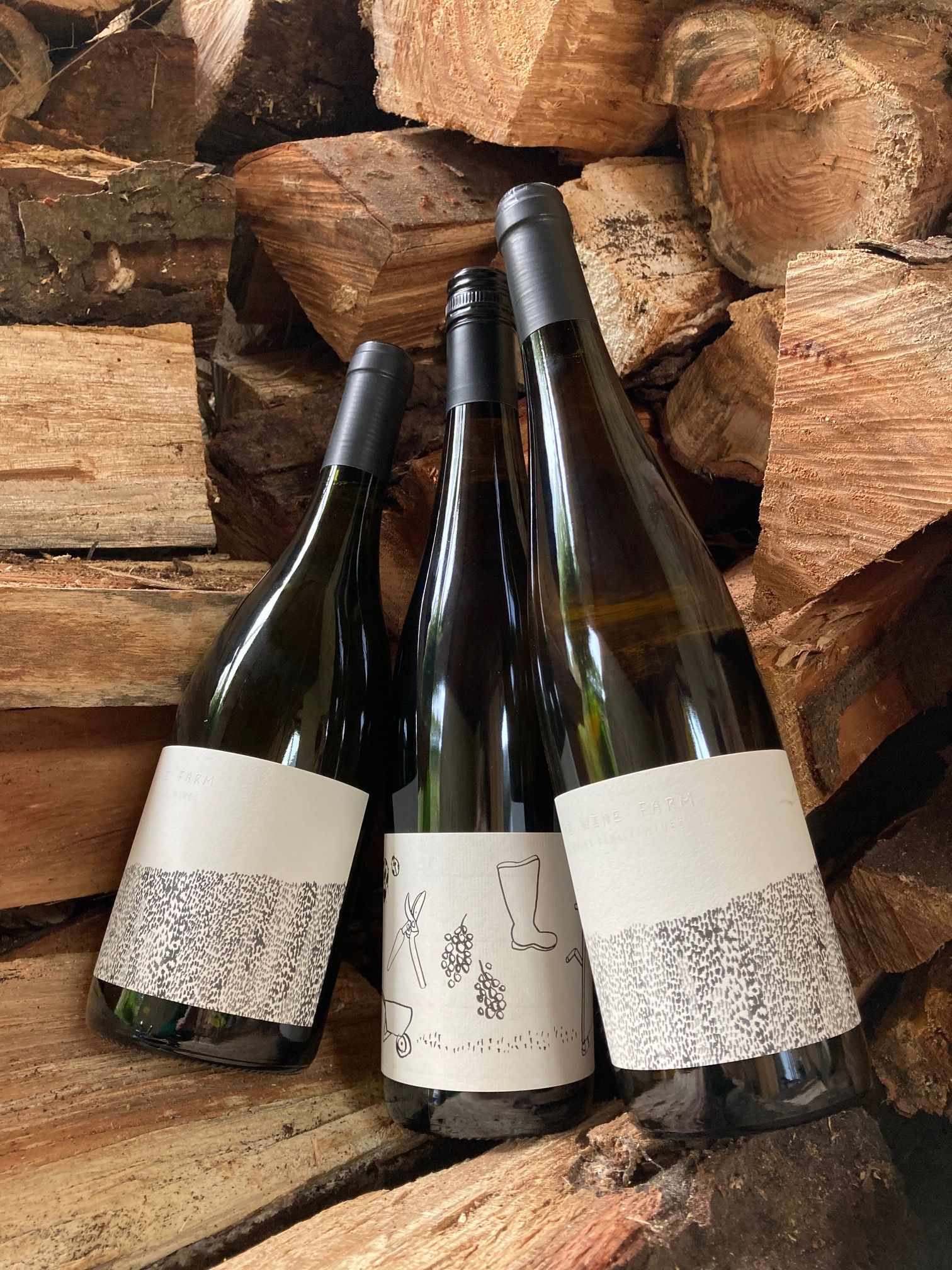 But there's no need to be fancy. Any of the above would (ok, do) go down a treat with a well-made toastie. As long as there's plenty of good oozy cheese, butter on every inch of the bread, maybe some cured meat and definitely a pickle or two. And regardless of the temperature outside, if you over chill your wine the flavours will shut down so don't forget to take the bottle out of the fridge well before you've plugged your sandwich press in.
In my opinion, none of these meals would be quite as good with a glass of red. Which is lucky, because those of you in the know will realise we find ourselves heading into deep winter with no reds in The Wine Farm cellar to speak of. Our 2017 Pinot noir and Cabernet have both sold out and we don't want to rush the release of our next vintage. Pinot in particularly should be given time to find itself before letting it loose on the world and right now, it's just not quite ready. So you would be forgiven for thinking I'm just backing whites because that's all we have to offer right now. And if I'm totally honest, that was the original motivation behind writing this letter. Gotta keep the wolves from the door somehow. But as I started letting my mind wander to all those delicious meals I've enjoyed in the colder months alongside a perfectly chilled glass of good white wine, I knew this would be a win–win.
Check out our store for our recommended winter drinking – The Wine Farm Chardonnay, The Wine Farm 'Farm Wine' Riesling and The Wine Farm Gewürztraminer. As always, shoot us an email with any questions about the wines.
But now it's time for me to put the pasta on so we can devour the bolognese that's been bubbling gently on the stove all day. The fire's lit and Neil has wandered up to the cellar to dig out a bottle of something from our personal stash to drink. Something gutsy. Something red. We're not complete lunatics.
Cheers
Anna