Family first
October 28, 2021
Dear friends
We have mixed news for you today. Firstly, as those of you who have visited us before know, our cellar door and vineyard sit alongside our family home. When the last of our visitors heads down the driveway, our three young children delight in riding their scooters and trikes around the tasting bench. Our quiet corner of the woods has been incredibly lucky so far during this pandemic with all but a handful of cases to speak of. But with regional numbers rising and on the eve of metro Melbourne finally heading out for some well-earned R&R, we have made the difficult decision to pause our cellar door offering to keep our little ones safe. We hope you understand and can't wait to throw the doors open again when the time is right.
In the meantime, we've just stocked up our online store with a bunch of goodies for you, and will have more releases on their way soon. Head to www.thewinefarm.com.au/shop for a browse and feel free to mix up a case any way you like. We can arrange free delivery of two or more bottles for locals (within 30km of The Wine Farm), and shipping is $10 for 6 bottles or more Australia wide (in multiples of 6 for safe transit). Please get in touch if you have any questions, would like more information about the wine, or have any special requests.
Though the cellar door will be quiet for a while, the vineyard is well and truly going for it this growing season so as always we'll have plenty to keep us busy. The soil is finally drying out enough to get in with the mower; the conditions are right to apply our first spray of 'preparation 501' – a fine mist of quartz designed to amplify the sun's rays and help tackle the Downey mildew spores that love a wet spring like this one; we have half an acre of cover crop to slash and work in to the soil before planting 1000 new vines where our wonky Sauvignon blanc used to be; and finally hope to give our shiny new undervine weeder its maiden tour of the block.
Not a lot going on in the cellar at the moment except for the daily riddling of the last batch of 2018 Pétillant naturel in preparation to disgorge and release. We'll be back to let you know as soon as that's ready.
Cheers
Anna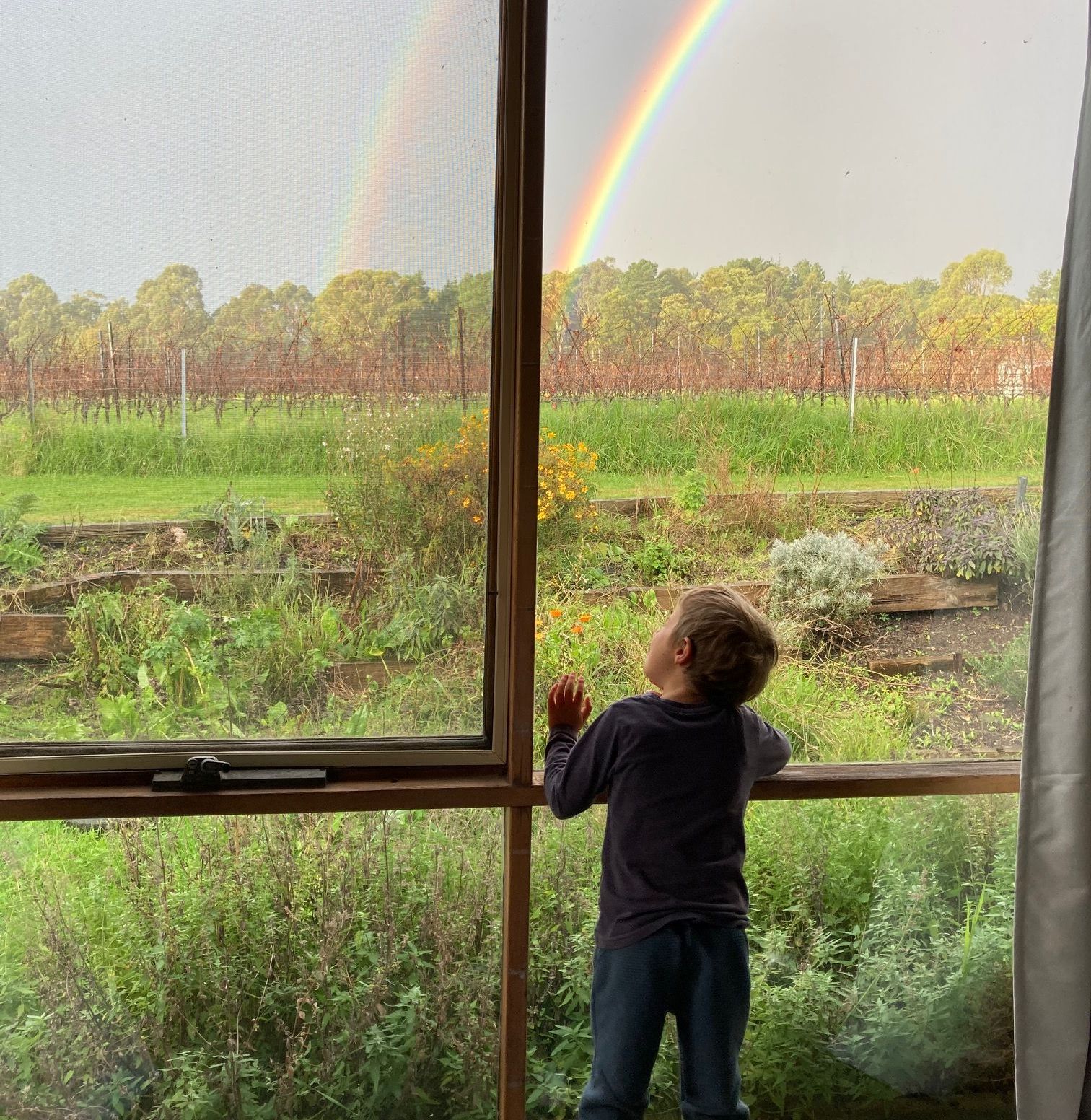 Eddie gazing out the bedroom window at the double rainbow landing squarely in the new planting site.