No place like home
July 14, 2018
Dear wine friends
We're always talking about the importance of wines being allowed to show 'place' – keeping the fruit pure to let it express the soil in which it grew. So given we're very nearly ready to share the first of our 2017 wines with you, we thought we should tell you a bit about our place first. What's so special about The Wine Farm?
There are so many things about our tiny pocket of South Gippsland that we love. Things we want to tell you about, things we'd love to show you when you next visit and things we ultimately aim to express in our wine.
Firstly, where on earth are we? Less than two hours south-east of Melbourne, 4km up the road from the tiny hamlet of Koonwarra, 10 minutes from the fishing haven that is Anderson's inlet and 50km from the southern-most point of mainland Australia in the wilds of Wilson's Prom.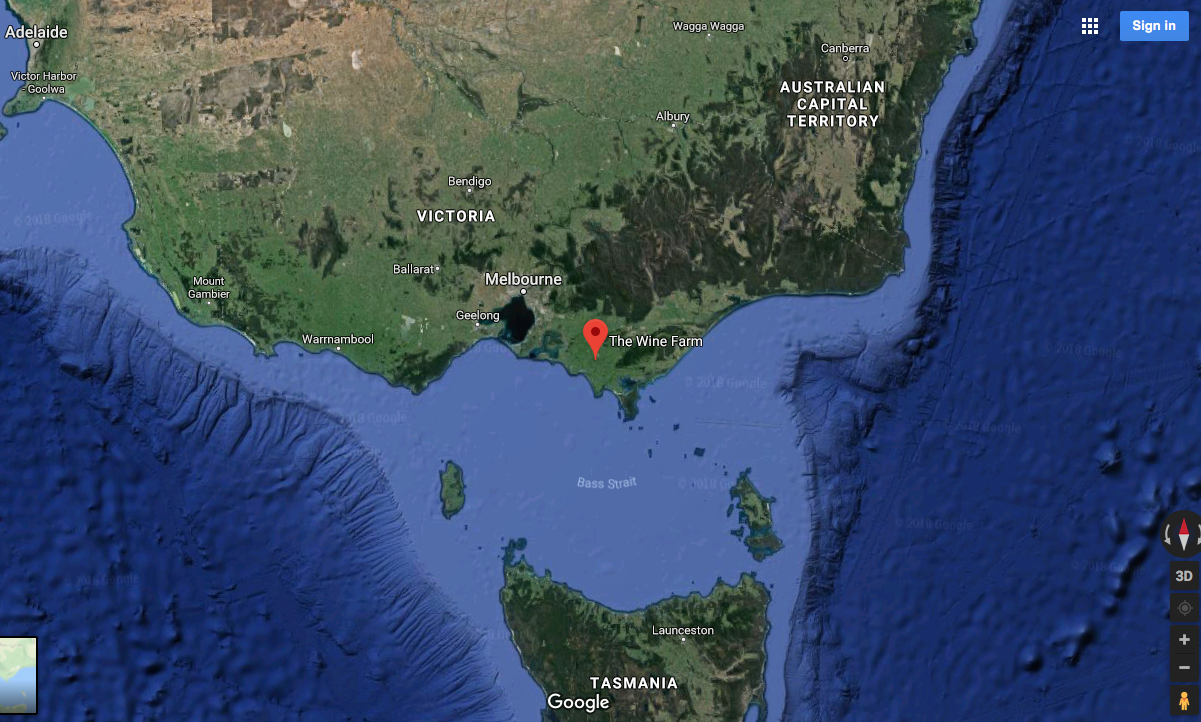 It's an amazing place to live and farm. A place of green rolling hills we reckon should be covered in vines. A place where a growing community of food producers is hitting its straps; a place more and more Melburnians are overheard tipping as 'the next Mornington Peninsula' to a chorus of locals who say 'no sir!'; and a place where grapes thrive.
The season is ideal for it – gentle and moderate. Warm but not hot in summer meaning long gentle ripening periods with cool nights that keep acids nice and high. The sun is important but doesn't dominate so you don't see 'heat' in the glass as you often find in wines from warmer climes. It's a marginal climate where disease pressure is high. Australia's dairy capital where eight years out of 10 green grass grows in the driest month of the year – February – the critical month for grapes. And if the grass is growing the vines aren't stressing so they're still taking in minerals from the air and soil, transpiring and accumulating sugars and the subtle flavours only seen in wines grown in a true cool climate.
But let's zoom in.
The Wine Farm is 15 acres carved out of dairy country with just seven of them under vine and the rest shared between a few sheep, the veggies, the cellar and the home block. We have eight varieties in the vineyard – three red, five white – all planted between 20 and 30 years ago on their own roots and in a combination of soil types.
Our property is the place where the deep, mineral-rich, red volcanic soils so coveted by the local dairy industry meet grey loam, and all under a layer of humus speckled with minute flecks of quartz reminiscent of the original 'Koonwarra gravel' found on this farm. The result is an unusual orange soil littered with coffee stone. According to ancient folklore it's this convergence of soil types we can thank for the artesian well that springs from our land and gives us a perpetual source of water for our veggies. Throw a rock 500m in any direction from our boundary line and you'll find a very different story.
But it's our story we want to tell through our wine. The story first uttered in the earth, passed into the roots by the microorganisms in the soil, from the roots up into the vine and bunches, then conveyed by the natural yeasts as they convert the fruit to alcohol, finally to be told to an appreciative audience when the glass is held to attentive lips.
This is our place.
Needless to say we only make wine from our own grapes. Every berry that enters our cellar has been farmed by us on our property. Farmed, harvested and handled with care in the winery in a way that allows the unique story of our place to be told, and in its purest form.
Cheers
Anna and Neil